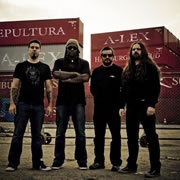 Dates and Tickets for Sepultura
| Event | Venue | Date | Time | Proceed |
| --- | --- | --- | --- | --- |
Sorry we currently have no dates available for Sepultura.
---
Sepultura will be touring in February/March! Dates confirmed in London and Bristol, get your tickets below.

Sepultura is a Brazilian metal band that formed in 1983 in Belo Horizonte, Brazil. The band was a major force in the death metal, thrash metal and ultimately groove metal realms during the late 1980s and early 1990s. Their name means "grave" in Portuguese, which they chose after Max Cavalera, one of the founding members, was translating the lyrics of the Motörhead song "Dancing on Your Grave".