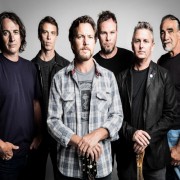 Dates and Tickets for Pearl Jam
| Event | Venue | Date | Time | Proceed |
| --- | --- | --- | --- | --- |
Sorry we currently have no dates available for Pearl Jam.
---
Whilst many of their peers have fallen by the wayside, Pearl Jam show no signs whatsoever of slowing down. Their debut album, Ten, is considered one of the best rock albums of all time, and with each subsequent release they continue to raise the bar. In October 2013 they released Lightning Bolt, their 10th studio album, which debuted at number 2 in the UK and number one on iTunes in over 50 countries.
Pearl Jam never seem to stop touring and they return to the UK on Friday 11th July 2014 for a very special concert at Milton Keynes Bowl. There are very few bands who can match Pearl Jam live on stage. They may not be 21 anymore, but they're still one of the most energetic and dynamic live acts in the world. Fronted by talismanic lead singer Eddie Vedder, their energy and technical ability is second to none, ensuring a show that will live long in the memory. They also never play same set list twice, meaning every single concert is a unique experience no matter how many times you've seen them.
Pearl Jam fans are some of the most dedicated in the world, following the band on tour to every corner of the globe. As such, Pearl Jam tickets are never around for long, so it's always best to snap them up as soon as you can.
Check below for all available Pearl Jam tour dates and tickets, and book today with Gigantic to ensure you don't miss out on what's sure to be one of the live events of the year.

One of the world's biggest rock bands, Pearl Jam, have announced they will be coming to the UK for a very special performance at the Milton Keynes Bowl on Friday 11th July 2014!

Written by the band and produced by Brendan O'Brien, Pearl Jam released their highly-anticipated tenth studio album 'Lightning Bolt' in October 2013. It was their first studio album in four years, and their tenth to date. It debuted at number 2 in the UK charts, their highest chart position since their 1993 record 'Vs.', while also debuting at number 1 on iTunes in over 50 countries and became their fifth number 1 album in their native US.

Purchase your Pearl Jam tickets with Gigantic Tickets below.