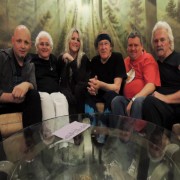 Dates and Tickets for Jefferson Starship
| Event | Venue | Date | Time | Proceed |
| --- | --- | --- | --- | --- |
Sorry we currently have no dates available for Jefferson Starship.
---
The music of Jefferson Airplane 50th anniversary celebration by: Jefferson Starship
Featuring
Paul Kantner, Jefferson Airplane founder
David Feriberg, Jefferson Airplane singer
Cathy Richardson, the songs of Grace Slick
Donny Baldwin, Jefferson Starship drums
Chris Smith, Jefferson Starship keybd/bass
Jude Gold JGB/ Jefferson Starship lead guitar

"White Rabbit", "Somebody To Love", "Volunteers", "Wooden Ships", "Lather", "Today", "Plastic Fantastic Lover", "Crown Of Creation", " Get Together", "She Has Funny Cars",
And all the hits of Jeferson Starship including "Jane", "Miracles", "Count On Me" & more

PAUL KANTNER founded JEFFERSON AIRPLANE in 1965. THE AIRPLANE were the biggest rock group in America during the 1960s and the first San Francisco band to sign a major record deal, paving the way for other legends like GRATEFUL DEAD & JANIS JOPLIN. They headlined the original WOODSTOCK FESTIVAL in 1969 and like THE BEATLES with whom they are critically compared, lasted a mere 7 years ... though their influence and impact on rock music continues well into the 21st century. In 1974 Mr. KANTNER created JEFFERSON STARSHIP and again enjoyed chart-topping success. PAUL, & JEFFERSON AIRPLANE were inducted into The Rock & Roll Hall of Fame in 1996, the same year as PINK FLOYD.