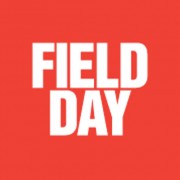 Dates and Tickets for Field Day
| Event | Venue | Date | Time | Proceed |
| --- | --- | --- | --- | --- |
Sorry we currently have no dates available for Field Day.
---
Since its first incarnation set feet tapping and heads nodding in London's Tower Hamlets back in 2007, the annual Field Day festival has gone from strength to strength, attracting bigger acts and crowds as each year passes. One thing hasn't changed though; it's still held in East London's Victoria Park ('Vicky Park' if you're a local) in the (hopefully) beautiful June sunshine. Get your sun cream or wellies out, depending on your level of optimism, and book your Field Day tickets here at Gigantic.
There is of course no guarantee on what the weather will do on June 6th and 7th, but what is for sure is that Field Day 2015 is shaping up to be one of the best yet. Featuring a mix of old and new bands from a wide variety of genres, there's something for everyone at the Field Day Festival, whether you're content to lounge on the grass or your plan is to head straight to the front and get your boogie on all day.
This year's Saturday headliner is Caribou, aka Dan Snaith. Whatever name he's going by, and there have been a few (see also Daphni and Manitoba), Snaith is always entertaining to watch. The Canadian composer and performer will be no doubt get bodies swaying at the end of a long day of live music, with his unique brand of synth-driven electronica.
Earlier in the day you'll get a chance to see old veterans and young upstarts alike, in the form of artists and bands like Cashmere Cat, Dj Barely Legal, Django Django, Ghostculture and Run the Jewels.
On Sunday there will be a rare chance to see 'punk rock poet' Patti Smith and her band performing her influential 1975 debut album Horses in its entirety. In the headline slot later in the day, nineties Brit-rock pioneers Ride will be playing through some of their under-rated almost hits from Going Blank Again, Nowhere and their other seminal albums. Other Sunday acts to look out for include Baxter Dury, Gaz Coombes of Supergrass fame, and Beyond the Wizard's Sleeve.
Whether you've got a few bands that you really want to see or you just want to enjoy a weekend of great music, beer and (once again, hopefully) sunshine, you can get Field Day Tickets here at Gigantic for single days, or for the entire weekend.