Europe and Black Star Riders
Rock legends Europe have announced that they're to return to the UK in March 2015 alongside Black Star Riders. The tour, presented by Planet Rock Live, will start with two nights in Glasgow and culminate in two nights at London's Shepherds Bush Empire. Both bands are to set to perform their classic tracks as well as a whole host of brand new music.

Joey Tempest of Europe said "This is going to be amazing to be playing with Black Star Riders is going to make for THE tour of the spring just can't wait to get back on the road!"

Black Star Riders' Scott Gorham added "When the idea of touring with Europe was presented we jumped at the chance. This is going to be a great tour and I can't think of a better way to kick off the new album's touring schedule."

Both Europe and Black Star Riders are expected to release new albums in early 2015 ahead of this exciting March tour.

Purchase your tickets for Europe and Black Star Riders with Gigantic below.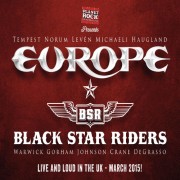 Dates and Tickets for Europe and Black Star Riders
Event
Venue
Date
Time
Proceed
Europe / Black Star Riders
Plus The Amorettes

O2 ABC Glasgow

,

Glasgow

Thu, 05 Mar 2015

Doors at 18:00

Book Tickets
Europe / Black Star Riders
2 Day Ticket & T-Shirt (5th-6th March 2015)

O2 ABC Glasgow

,

Glasgow

Thu, 05 Mar 2015 - Fri, 06 Mar 2015

Doors at 18:00

Book Tickets
Europe / Black Star Riders
Plus The Amorettes

O2 ABC Glasgow

,

Glasgow

Fri, 06 Mar 2015

Doors at 18:00

Sold Out
Europe / Black Star Riders
plus The Amorettes

O2 Academy Newcastle

,

Newcastle

Sat, 07 Mar 2015

Doors at 18:00

Book Tickets
Europe / Black Star Riders
Plus The Amorettes

O2 Academy Leeds

,

Leeds

Sun, 08 Mar 2015

Doors at 19:00

Book Tickets
Europe / Black Star Riders
plus The Amorettes

Rock City

,

Nottingham

Tue, 10 Mar 2015

Doors at 19:00

Book Tickets
Europe / Black Star Riders


Corn Exchange

,

Cambridge

Wed, 11 Mar 2015

Doors at 19:00

Book Tickets
Europe / Black Star Riders
+ Guests

Academy

,

Manchester

Fri, 13 Mar 2015

Doors at 19:00

Book Tickets
Europe / Black Star Riders


Civic Hall

,

Wolverhampton

Sat, 14 Mar 2015

Doors at 18:30

Book Tickets
Europe / Black Star Riders


Exeter University Great Hall

,

Exeter

Sun, 15 Mar 2015

Doors at 19:00

Book Tickets
Europe / Black Star Riders


O2 Academy Bristol

,

Bristol

Mon, 16 Mar 2015

Doors at 19:00

Book Tickets
Europe / Black Star Riders


O2 Academy Bournemouth

,

Bournemouth

Wed, 18 Mar 2015

Doors at 19:00

Book Tickets
Europe / Black Star Riders


The Nick Rayns LCR

,

Norwich

Thu, 19 Mar 2015

Doors at 19:30

Book Tickets
Europe / Black Star Riders
Plus Special Guests

O2 Shepherds Bush Empire

,

London

Fri, 20 Mar 2015

Doors at 19:00

Book Tickets
Europe / Black Star Riders
2 Day Ticket & T-Shirt (20th-21st March 2015)

O2 Shepherds Bush Empire

,

London

Fri, 20 Mar 2015 - Sat, 21 Mar 2015

Doors at 19:00

Book Tickets
Europe / Black Star Riders
Plus The Amorettes

O2 Shepherds Bush Empire

,

London

Sat, 21 Mar 2015

Doors at 19:00

Book Tickets